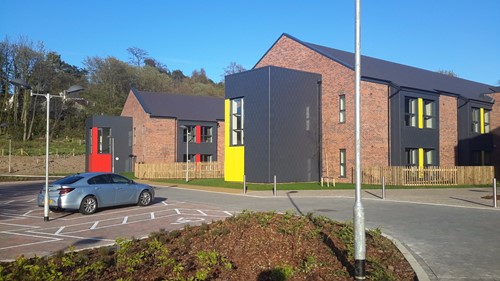 Management Appointments
Chris McNeill (Head of Community Health and Care), along with Integrated Operations Managers, Pauline Stevenson and Phil MacDonald have now implemented the new senior management structure within residential and day services:
Care Home Manager (Dumbarton) – Liz McInnes
Care Home Manager (Clydebank) – Wilma MacCorquodale
Day Services Manager – Bernadette Smith
Care Home Manager (Nursing) – Suzanne O'Neill
Care Managers – Margaret Kelly, Jamie McCormack, John McLean-Young, Heather Boyle, Kate Craigon, Peter McColl
The contractor, Morgan Sindall, handed over Crosslet House to West Dunbartonshire Health and Social Care Partnership in May 2017.  This was shortly followed by the migration team managing the furnishing of Crosslet House in line with the design specification, and setup of all services and equipment.
The migration of residents from Langcraigs, Dalreoch and Willox Park was completed successfully during June 2017, with the new day service being fully operational in early July 2017.  The migration process was the largest organisational change undertaken to date within the Health and Social Care Partnership, affecting 70 residents, up to 50 day service users a day, and more than 150 staff.  Given the scale of the operation, and the need to upskill the workforce, the process was completed successfully, with residents now enjoying their new home, day service users finding new ways of spending their days, and staff benefitting from a modern workplace with greatly improved facilities. 
There were many lessons learned from the completion of the Crosslet migration process, and we continue to be in the early days of settling in.  There have been some difficulties with systems and snags affecting access, system challenges around tvs and wifi, false fire alarm activations, and the odd plumbing difficulty.  Each difficulty has presented an opportunity for learning, with each point being taken on board and a commitment made by management to find solutions.
Snagging at Crosslet House is almost complete, but Lesley Woolfries, Capital Investment Team Manager continues to work closely with Phil MacDonald, Integrated Operations Manager – Care Home Development, to ensure that the building performs as it should and everyone using the building has the best experience possible.  A significant volume of work has been undertaken to clear the old care home buildings which have now been secured and passed to the estates section for management until the council makes decisions about the future of each site.
The Clydebank project was awaiting the Queen's Quay Master Plan approval before the planning application could be submitted for permission to build our new Clydebank Care Home.  Clydebank Care Home has now been granted planning permission, therefore the project board have instructed the progression of work to proceed to tender.  It is anticipated the project will go out to tender during August, with a view to building work commencing onsite in early 2018.  There have been plans shared with residents in our current Clydebank homes, members of the public and consultation events have taken place. 
The manager of the new Clydebank Care Home, Wilma MacCorquodale, along with Berny Smith, is making preparations for developing the team in Clydebank and working alongside residents and service users to ensure the new building ultimately meets their needs.  There are some management changes in Clydebank as Wilma McCorquodale takes over the management of Mount Pleasant Care Home, assisted by Lorna Swift.  Suzanne O'Neill takes over management at Boquhanran House, assisted by Peter McColl, and Berny Smith continues in her role of manager at Frank Downie, assisted by Kate Craigon.